Ahead of Kohli's #100 test tomorrow, this WhatsApp group is buzzing for the 'yaar'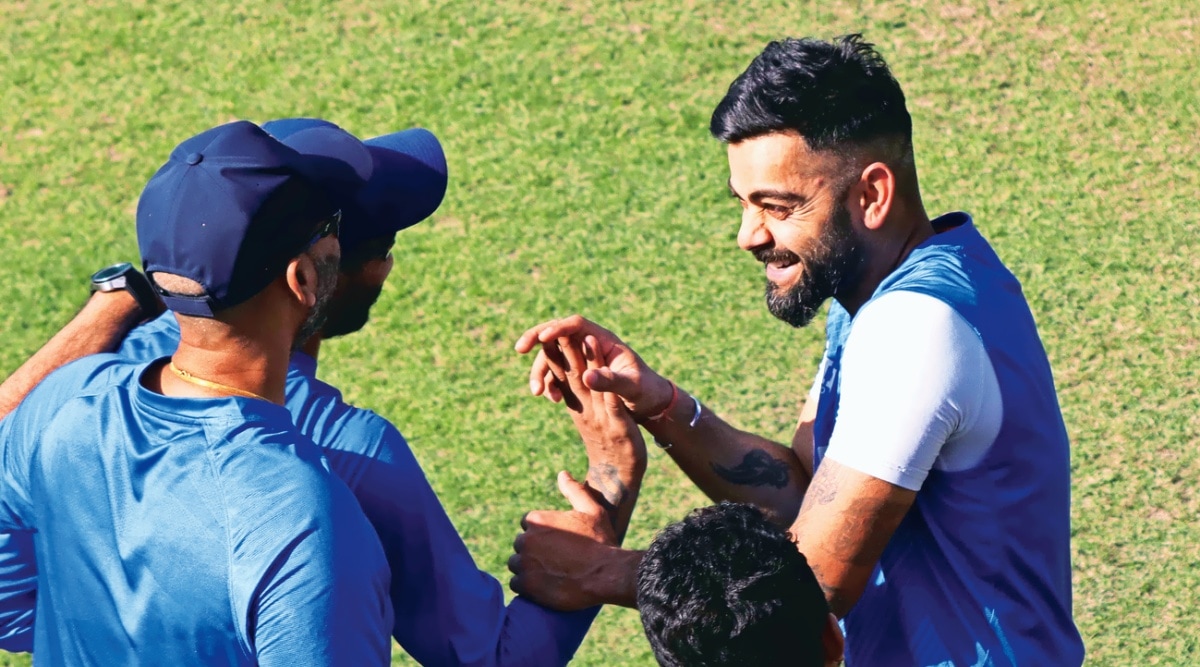 UNTIL WEDNESDAY, Virat Kohli's phone notifications reportedly buzzed constantly, especially from the WhatsApp group titled 'Under 19 Champions'.
Exactly 14 years ago, Kohli, a stump in hand, slipped on the green grass of a Kuala Lumpur stadium, with Ravindra Jadeja hot on his heels, after leading India to the U19 World Cup. 19, beating South Africa in the final on March 2, 2008.
Now, with their 'yaar' set to play their 100th Test on Friday against Sri Lanka, it's been a deluge of emojis over the squad, which started during lockdown in 2020 with all of its members from this Under-19 World Cup 19 year old winning team.
This group never gets bored, tell its members to The Indian Express. Besides the memories of Kohli's spiky hair and aggression, the memes and jokes, and the constant leg-pulling sessions, occur after games.
Like this time when left-arm spinner Iqbal Abdulla reminded Kohli of a mistake.
"As captain, Kohli had gotten so involved in a World Cup match that he forgot he had changed my position on the pitch. I was in the middle of the deep wicket and when the batsman hit the square-legged ball, he sent me downfield there. Soon the ball went to midwicket and Kohli lost his temper. I had to remind him of the sequence of events. We're still laughing about it, " he remembers.
"Memes and jokes are passed on to everyone. No one is spared," he says.
Tanmay Srivastava, the top scorer in that final and the one who started the group, finds it amusing to recall the public perception of Kohli at the time.
"People were saying, 'Look, he has attitude problems.' But when he started performing, his attitude became aggressive in their eyes! became a great player)". It was a commentary on his attitude, as they saw it. But with consistent performances, everything changed. Now the same people say he is a confident guy, "explains Srivastava, who was captain heading into this World Cup before being replaced by Kohli.
Srivastava, who was sometimes called "bhaisaab" by Kohli as a teenager, identifies aggression as the "X-factor" that sets his old friend apart. "We were all game winners in this team, but he was different because of his aggression. He was ready to face anyone, without flinching. A rare quality, especially since no one was then used to such an attitude. He was different for sure, he had that X factor, the spirit, the attitude of never giving up," he says.
Another teammate Pradeep Sangwan, the left-arm dressmaker, still marvels at Kohli's food discipline "because I know how greedy he was." "He ate a lot. Mutton-rice, everything. He even traveled miles on foot to various food outlets; the only thing that mattered was the taste," says Sangwan.
When did that change? "In 2010, when he came to play for Delhi Ranji team, everything was different. He ate boiled food! He didn't drink more than 200ml of liquid at a time. Rice-mutton curry was replaced diet food. I was surprised how much he had changed himself," he says.
Wicket-beater Shreevats Goswami remembers Kohli's striking prowess. "He was the only one who easily passed all six," says Goswami, who was also moved by Kohli's transformation in work ethic.
"I used to meet him on the IPL and he never missed his fitness session. Most of the time I saw him training in the gym. His aim was way ahead of all of us. Often cricketers become lazy and have a 'cheat day', but Virat would never do that," he says.