ARMY strikes again: BTS fans raise 45,000p for amiable food delivery driver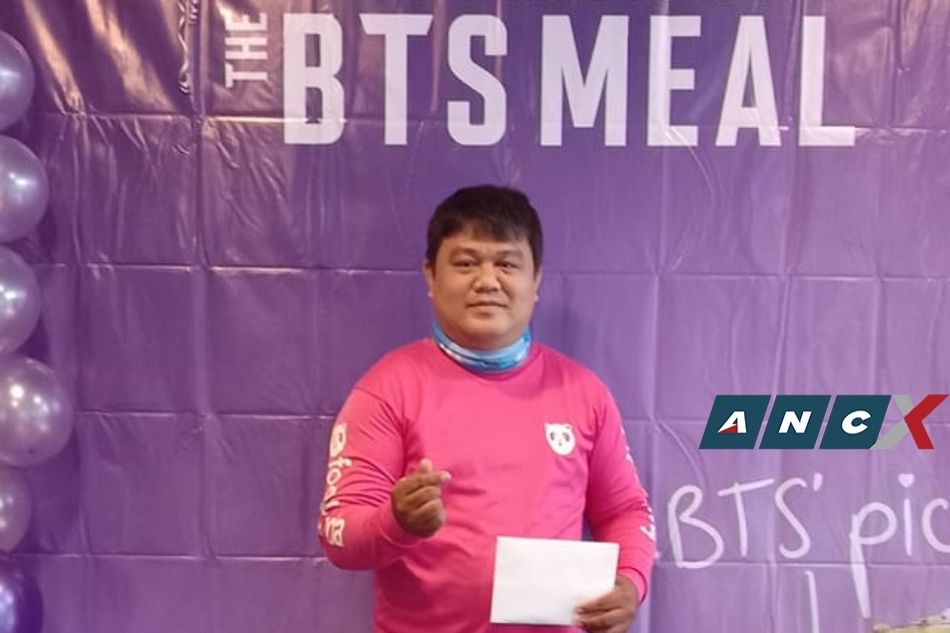 Culture
BTS fan group just light up a Foodpanda driver's life like, well, dynamite
BAM ABELLON | June 20, 2021
When giant fast food chain McDonald's released their collaboration meal with Korean phenomenon BTS, fans of the boy group likely went into a frenzy.
They bravely lined up, with delivery men, outside McDonald's outlets – under Covid restrictions, we hope – to get their hands on this 260-peso meal that features 10 pieces of Chicken McNuggets and its edition sauces. limited: Cajun and Sweet Chili. The meal also includes a medium cup of coke and medium fries.
Some non-fans were quick to poke fun at the event, calling it ridiculous. As a natural consequence, the fandom, which calls itself the ARMY, defended its troops. So when a Foodpanda driver named Benjamin Baetiong posted a message on Facebook declaring his full support for BTS fans excited about the McDonald's promotional meal, some ARMY members who got wind of the post and didn't lose. time to return love.
"Lakas ng BTS ngaun meal," Benjamin's post said on FB. "Umaarangkada na .. kme mga Foodpanda rides .. masayang dedeliver in your meal bts .. kya mga bts fans .. dyn .. gogogogo na order na kyo."
One of the members of a BTS fan group called Tea Squad was touched by the post. It was, after all, a refreshing expression of encouragement and positivity amid the mockery and negativity of non-fans. The member shared the post with the rest of the team who quickly went into benevolent mode and immediately decided that they needed to fundraise for Pilot Benjamin, even though they didn't know Adam's guy.
A quick word about The Tea Squad. It was formed a few years ago according to Kit, a member of the team who spoke to ANCX. Kit is a customer service representative and owner of the Twitter handle, @therealkittenwp. Their group was formed following a late-night conversation on the Twitter space. From then on, the conversations became a nighttime ritual. Today, the Tea Squad has 17 members.
"I've been a BTS fan since 2016," Kit tells us, "although I didn't really get into conversations with other ARMYs. I guess what attracted me to BTS was the passion and the group's advocacy: love each other and be better every day Remember that in 2017, BTS, in partnership with the United Nations Children's Fund (UNICEF), launched Love Myself, an anti-violence campaign.
The team's fundraising racked up P 45,000 for Benjamin Baetiong. Benjamin, 38, tells ANCX that he's still blown away by the show of support from BTS fans. Also, it turns out that he could use a little extra money.
A former tricycle driver, Benjamin applied as a rider for Foodpanda in 2020 when tricycles and all manner of public transport were banned from main roads due to the Enhanced Community Quarantine (ECQ). At the time, Foodpanda set up a project that hired former trike drivers who were suddenly out of work.
While it looked like things would get better for Benjamin after he was hired by the delivery services company, his 73-year-old father suffered a stroke and medical bills began to pile up. Then came the day to launch the BTS meal.
"No'ng nakita nila [Tea Squad] post ko, natuwa po sila sa akin, to nag-PM [private message] sila na magpopondo daw sila, "Benjamin told ANCX via Facebook Messenger. "Sabi nila maagang pamasko raw po 'yon. Para po sa papa ko 'to, pang gastos sa mga gamot à dito na rin sa bahay.
So far, Benjamin seems stunned by this turn of events. He wants fans to know he is extremely grateful. "Super Salamat for all the BTS fans at ARMY," he wrote to us on Facebook Messenger. "Super ty ty ty talaga."
Tea Squad Kit claims that the fundraising activity was a way for them to live up to the pleas and beliefs of their idols. "I think people deserve to know this side of the K-pop world stan as well," Kit says. "That we are more than just fans. Also, I believe that if anyone is truly deserving of help then we should help in the best possible way and find out how. "