Australians are spending less time on Facebook and much, much more on TikTok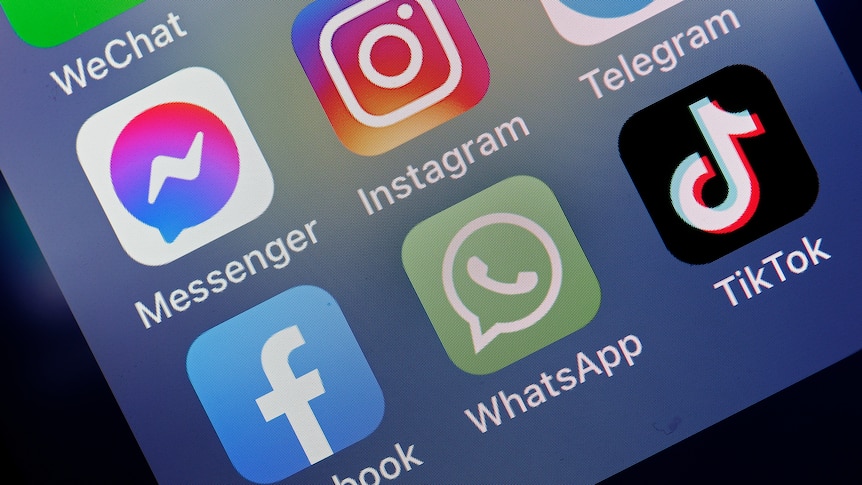 Last week's announcement that Facebook's global daily active user count fell for the first time in its 18-year history saw billions wipe out the value of its parent company, Meta.
Key points:
The average time per month Australian users spend on Facebook fell 3% last year
TikTok saw a 40% jump
Facebook remains the most popular platform, but TikTok is catching up
At the time, chief executive Mark Zuckerberg partly blamed TikTok, saying, "People have a lot of choices about how they want to spend their time, and apps like TikTok are growing very quickly."
So what about Australia? Are users Down Under abandoning the old and embracing the new?
Just at the right time, the Digital 2022 Australia report has been released, with a wealth of new information on where Australians are going online.
And the answer to the above question seems to be "yes".
The average time per month Australian users spent on Facebook fell by 3% last year, according to the report, which was prepared by social media marketing company Hootsuite and creative agency We Are Social.
Instagram (also owned by Meta) and YouTube (owned by Google) grew 2% and 5% respectively.
But the big story was TikTok, which saw a 40% jump.
Australia follows global trends
Tama Leaver, professor of internet studies at Curtin University, described the latest figures as a "turning point".
"It's not so much the magnitude of the decline as it seems like the start of a trend," he said.
Facebook still has a much larger following, but TikTok is catching up fast.
It was the third most downloaded app in Australia in 2021, behind the Victorian and NSW QR code checker apps, and has the capacity to reach just over 7 million people.
That's still about half of Facebook, but in the December quarter alone, that number grew by more than 500,000.
"That's why Meta's share price has fallen so dramatically," Professor Leaver said.
"Australia is not that different from the big English-speaking markets."
Does this mean fewer Australians are using Facebook?
Not enough.
To find out if fewer Australians are using Facebook, we would need to know the number of daily active users, or DAUs.
Unfortunately, it's a number that Facebook doesn't share unless it has to, like when it releases its quarterly performance report to investors.
This is what happened last week: Facebook's quarterly report showed a 0.025% drop in the number of daily active users.
But this is only the overall figure of daily active users. The Australian one is kept secret.
"It's part of Facebook's strategy right now – not to do local numbers and not to disaggregate its own numbers," Professor Leaver said.
So that leaves us with external reporting, like Digital 2022 Australia, which uses data collected from Meta's marketing tools to compile monthly reports. advertising scope.
That figure dropped for Facebook in the December quarter, from 16 million to 15 million accounts reached, which could mean fewer Australians are using Facebook.
But it could also be because Meta has made significant changes to the way it reports ad reach figures, said Simon Kemp, author of the Digital 2022 Australia report.
"As a result, there is no way of knowing whether the changes in the data between our October 2021 and January 2022 reports represent an actual change in user activityor just a meta change methodology," noted Mr. Kemp, who is also the managing director of Kepios, a social analysis consultancy.
"I believe the majority Any change in numbers between our two most recent reports will come from a change in Meta's reporting methodology, not a significant change in actual user counts or activity."
So it's possible that fewer Australians are using Facebook, but it's not as big a drop as the data would otherwise suggest.
Facebook is still king: more than three-quarters of Australians who are on social media use the platform.
By comparison, only around a third use TikTok.
How's Instagram?
The Meta platform that most resembles TikTok is not Facebook, but Instagram.
And it did pretty well last year, according to the report.
The video and image sharing app's monthly ad reach jumped 16% to 13 million accounts.
The average time spent each month on Instagram increased by 2%.
Again, you'd expect the number to rise: the report found that Australians are spending more time online overall.
By the end of 2021, around 83% of Australians were active on social media, an annual growth of nearly one million users.
The average time spent on social media is almost two hours a day, an increase of 11 minutes.
Thus, the cake of user attention is more important than ever.
And TikTok smashes its way through that pie much faster than any of its competitors.
"We know Instagram is struggling," Professor Leaver said.
"He tried to bring Reels as a TikTok answer – that's the only reason he would.
"You can see the sea changing, with TikTok the fastest growing one."
So is this the beginning of the end for Facebook?
Probably not.
Last week's announcement saw many bold claims that Facebook was toast, but they may be premature.
On the one hand, Facebook still has a huge market dominance.
"It's still the most used platform in the world, and it's also the third most popular platform in the world," Kemp said.
"Our analysis suggests that the 'typical' social media user globally now actively uses 7.5 different social platforms each month.
In other words, Facebook is still an essential service for many Australians (remember the chaos of last year when it abruptly blocked our access to news and emergency services pages.)
People will therefore likely continue to use Facebook, but, as this data shows, not as much as before.
For Facebook, it's a disaster.
This means the platform has a lower marketing reach, meaning it makes less money from advertising, which has been the company's river of gold.
His long-term plan, at the moment, is also quite vague.
In October last year, Facebook announced it was becoming a metaverse company and rebranded as Meta.
The news created equal levels of excitement and confusion, as the concept remains more in the realm of sci-fi storylines than sober business plans.
A few months later, Meta launched a virtual workplace where avatars had no legs.
"Facebook hasn't built a metaverse yet. It just built a raw version of a desktop," Prof Leaver said.
"People are deeply suspicious of Facebook and the metaverse and we've seen attempts at virtual reality in the past that never lived up to the hype."
The latest user engagement figures suggest that as Facebook builds its virtual kingdom online, it may have lost the world.