Facebook's Mark Zuckerberg Gets Meta In Disturbing Barbecue Sauce Filled Video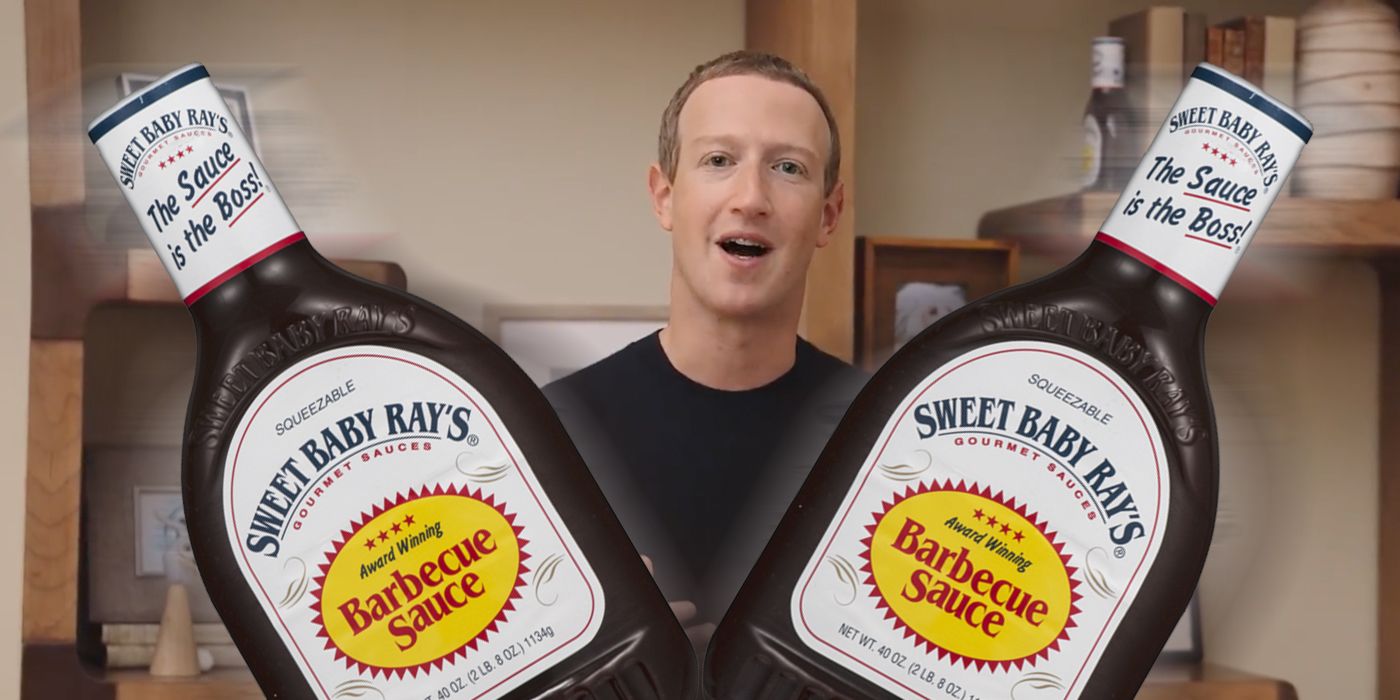 A disturbing viral video turns Facebook / Meta CEO Mark Zuckerberg into a barbecue sauce-obsessed VR nightmare.
A deeply disturbing video made by fans of Facebook / Meta Platforms co-founder and CEO Mark Zuckerberg is currently haunting the internet.
The video airs on Facebook's recent rebranding to Meta and Zuckerberg's affinity for Sweet Baby Ray's barbecue sauce. Designed as a virtual reality experience, Zuckerberg asks the POV character if he wants to indulge in any of the sauces. When the POV character declines, things get very, very dark.
RELATED: Facebook Stops Users From Posting Eternals Movie Recordings
When Zuckerberg announced the Facebook name change, many were quick to point out that there was a bottle of Sweet Baby Ray barbecue sauce apparently used as a bookend on one of its shelves. While many were confused, this was actually done intentionally by Zuckerberg as a nod to the memes spawned by a Facebook Live post he created in 2016 in which he shared his love for smoking meat and brushing it on. in Sweet Baby Ray's. In fact, the audio from this post was used to create this new video.
RELATED: Facebook and Instagram Outage Claimed Social Media for Myspace
In March of this year, Zuckerberg reflected on the memes during a chat at the Clubhouse (via Insider), saying, "Probably, if I had to go with a favorite, I think it must be 'smoke meat.' I love to grill and cook, and it was silly, and I appreciate everyone enjoying it. "
RELATED: Spider-Man: No Way Home Twitter Account Says To Stay Away From Social Media To Avoid Spoilers
"As of today, our business is now Meta…" Zuckerberg said in October when Facebook was rebranded. "Now we have a new North Star to help bring the Metaverse to life, and we have a new name that reflects the full scope of what we do and the future we want to help build. , we're going to be metaverse first, not Facebook first. Over time, hopefully we'll be seen as a metaverse business … it's time for us to embrace a new corporate brand to encompass everything we do, to reflect who we are and what we hope to build. "
Facebook was co-founded by Zuckerberg, Eduardo Saverin, Andrew McCollum, Dustin Moskovitz, and Chris Hughes in 2004. Since then, it has grown into the biggest social media platform of all time.
KEEP READING: James Gunn Trolls Facebook Users To Untraceable GotG Easter Egg
Source: Twitter
When Batman and Superman faced off against … Shang-Chi ?!
About the Author