Paxton sues Facebook in Harrison County Court over biometrics | News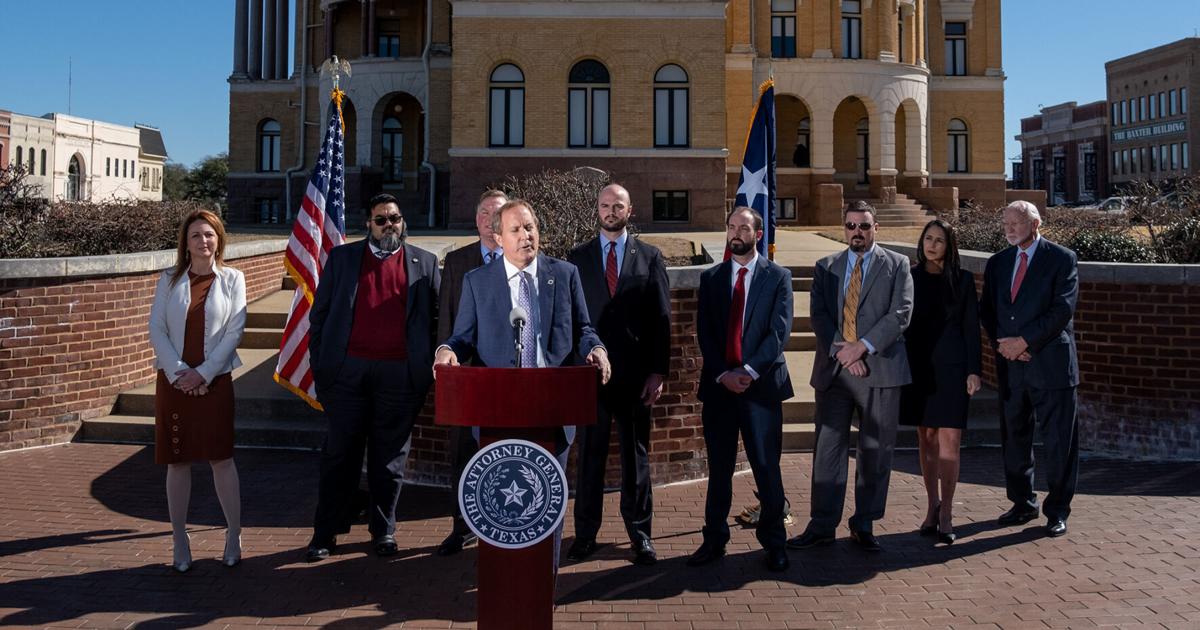 Texas Attorney General Ken Paxton filed a lawsuit against Facebook on Monday in Harrison County's 71st District Court for allegedly capturing users' biometric data and using it for commercial purposes without their informed consent. .
"Facebook has secretly harvested Texans' most personal information — photos and videos — for its own benefit," Paxton said following a news conference outside the historic Marshall County Courthouse.
According to the AG, Texas law has prohibited such harvesting without informed consent for more than 20 years.
"I will hold Facebook accountable for its tens of millions of violations of Texas law," Paxton said.
At Monday's press conference, Paxton explained that one of his duties under the Texas Constitution as Texas Attorney General is to protect consumers from fraud.
"That's what we're doing," he said of his office's decision to take legal action against Facebook. "We are following what has been issued by the Texas Constitution and we are here to protect Texas consumers.
"In accordance with this, we are filing a lawsuit under the Texas Deceptive Marketing Practices Act, which is intended to protect consumers from deceptive marketing practices and fraud; and also, under other Texas laws, relating to the capture of biometric identifiers," Paxton continued.
These biometric identifiers include retina or iris scans, facial geometry recordings, and voice prints.
"One of the most widespread uses of biometric identifiers by Big Tech today is in facial recognition technology," the lawsuit states. "Once a biometric ID is captured, a malicious actor can access the ID and exploit it for the rest of the victim's life. These unique and permanent biometric identifiers, once exposed, leave victims with no way to prevent identity theft, unauthorized tracking and targeting, or other threats to privacy, safety and security. security.
Paxton said he filed a lawsuit against Meta Platforms Inc., commonly known as Facebook, at 10 a.m. Monday at the district clerk's office of the 71st Judicial District Court.
"We filed in Marshall, so it seemed appropriate to announce to Marshall since that's where the case is being filed," Paxton said. "We file cases all over the state of Texas. We know a lot of tech lawsuits are filed here, so this seemed like an appropriate place to file this lawsuit.
Joining him at the press conference were staff members from the Texas Attorney General's Office, Shawn Coles, Deputy Attorney General for Civil Litigation; Steve Robinson, Division Manager of the Consumer Protection Division; Aaron Rice, Deputy Attorney General for Legal Strategy; and Murtaza Sutarwalla, Deputy Attorney General for Legal Counsel.
Zina Bash of Keller Lenkner LLC and attorneys Sam Baxter and Jennifer Truelove of the Marshall branch of law firm McKool Smith also joined Paxton.
Baxter, who is a principal at McKool Smith, said the law firm was eager to work with the AG.
"Texas has one of the strongest biometric privacy laws in the nation, and McKool Smith looks forward to working with the Texas Attorney General's office to help uphold the law and protect the privacy of all Texans," Baxter said.
McKool Smith is recognized as a reputable trial firm, with more than 130 litigators in seven offices in Marshall, Austin, Dallas, Houston, Los Angeles, New York and Washington DC. The law firm has had great success representing large corporations in federal patent matters. infringement suits, for example, in Marshall's own US Federal Court, which is renowned for its high-profile patent records.
The local company's expertise and track record as a leading US company in technical cases is what caught the attention of the AG's office.
"These are very complicated cases, and these firms that we're dealing with have unlimited resources, and they can hire hundreds of lawyers," Paxton said.
"Sometimes we need to hire people who have specific expertise, and that's why we hired these companies," he said, explaining why he chose Marshall's experts.
"We interviewed many companies and felt this company had the expertise we needed," Paxton added. "There is more than one company involved. But we usually do a lot of interviews, and we thought about it for a long time and my team felt they were best suited to represent us in some very technical issues with technology.
Facebook was established in 2004 and exploded in 2008 to become the largest social media platform in the world.
"In 2011, more than 12 million Texans used Facebook. And in 2021, we had over 20 million Facebook users from Texas," he said.
"In breaking the law, one of the things Facebook did was not disclose to consumers that they were capturing their biometric identifiers, specifically facial geometry," Paxton said. "The law requires them to disclose that."
Moreover, he said, Facebook was also not supposed to pass this information on to other parties, which he says he did. The AG said the social media giant also failed to destroy the data within a reasonable time. The lawsuit states that all of this is in violation of the Texas Capture or Use of Biometric Identifier Act.
Paxton said the problem for consumers in Texas is that unlike a Social Security number or a driver's license that can be changed, or other information that could potentially be captured by other media companies social, this cannot be changed.
Paxton said Facebook was "letting the genie out of the bottle" by giving away this data. As a result, the damage caused is significant and permanent, he said.
"So we are literally filing a lawsuit, on behalf of consumers in Texas and the State of Texas against Facebook, which could amount to billions of dollars in damages, because every violation of deceptive marketing practices is a violation of $10,000 and each The violation of this other law that I just mentioned is $25,000 per violation for non-disclosure, for capturing information without disclosure, for passing that information to third parties, and for other violations of the law," Paxton said. "I want the people of Texas to know that we are going to do our best to recover, through this lawsuit, and right the wrong that was done by Facebook. ."