Shake and Move Fitness Offers Fitness Community in Marshall | Business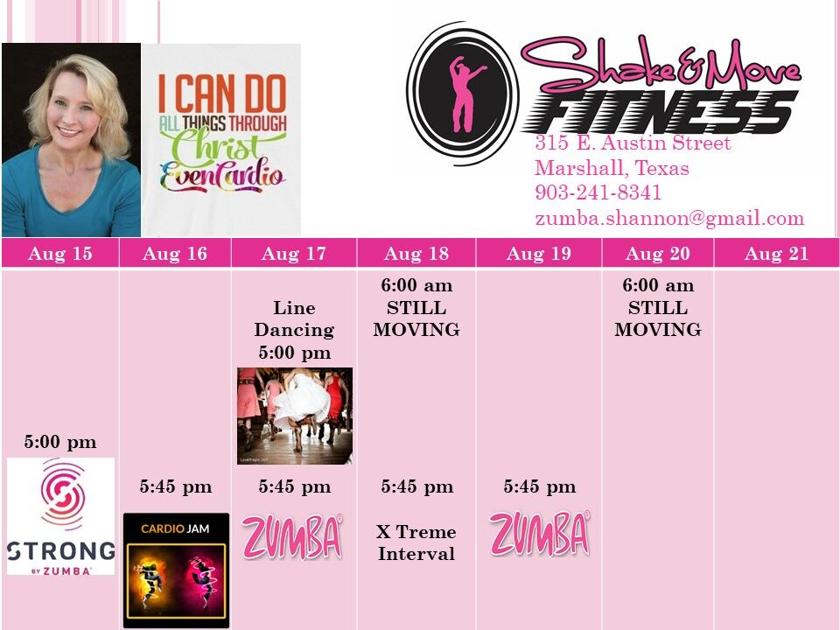 [ad_1]
While many people across the country are taking the time to think more seriously about their fitness goals right now, Shannon Johnson, owner of Shake and Move Fitness, is offering members of the Marshall community some fun fitness classes and unique in a community environment.
Johnson said she opened at the centre's current location, 315 E Austin St., 10 years ago, although she has been teaching Zumba classes locally for 13 years.
"I was one of the first people to get Zumba certification in East Texas," Johnson said. "Zumba is truly a Latin cardio dance fitness class. People like it because it's not like a regular aerobics class, they come and have a lot of fun.
The company not only offers Zumba classes now, but also offers a booty boot camp class, movement classes, x-treme interval for more experienced members and more.
In addition to their fitness classes, Johnson said the company now offers line dance classes on Tuesdays as well as massages by Brook Harvey.
"We really have everything anyone interested in fitness could want," she said.
Shacey Shaw also teaches a yoga class at Shake and Move fitness every Monday, Wednesday and Friday at noon.
The business is not a gym, but rather focuses on a community health and fitness atmosphere by cultivating a family atmosphere.
Community members can attend any walk-in class for just $ 5, or purchase a punch card for $ 10 for 40 of Johnson's classes.
"A big part of what we do is social interaction," Johnson said, "We are so much more than a gym because our whole community is responsible. If you come to a class regularly and miss it one, we miss you.
The company also offers holiday rentals, as well as a wide range of other services.
[ad_2]