Woman accused of starving horses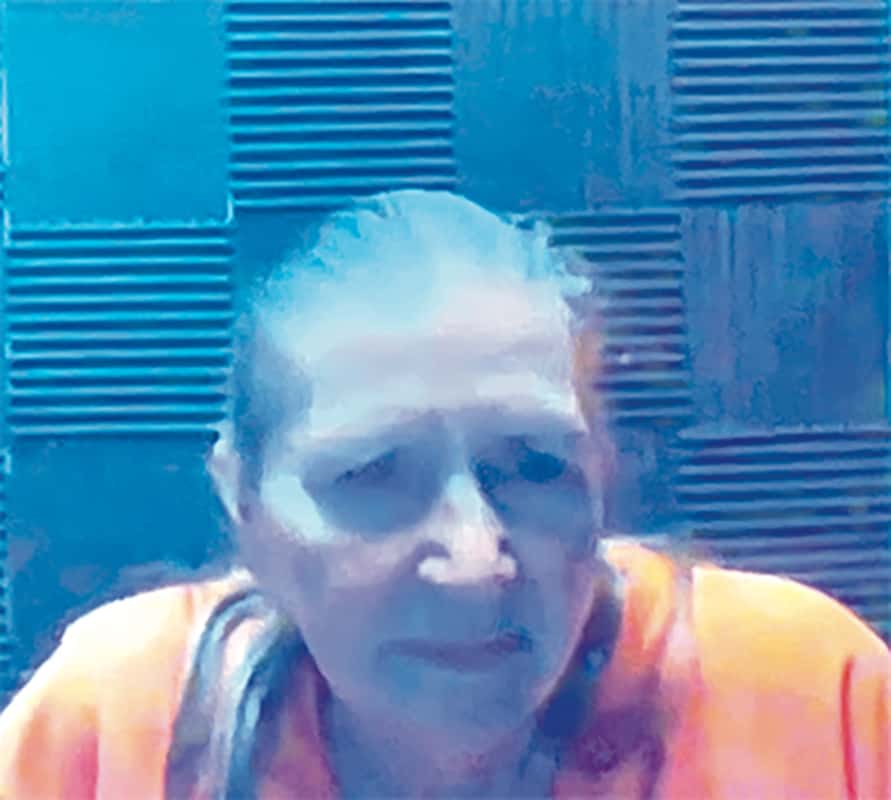 Two dead animals; Diane Silbaugh accused of cruelty
By Carol McIntire
Editor
A Carrollton-area woman accused of starving four horses, appeared by video from county jail for an arraignment hearing March 10 in Carroll County Municipal Court.
Two of the horses are dead and the other two are being cared for in foster homes.
Diane K. Silbaugh, 69, who told Judge Gary Willen she lives in an RV trailer at ABC Campgrounds, showed no remorse or emotion — only nodded — when Willen read the charges : Count 1: Animal cruelty horse #1, a mare; Count 2: Cruelty to Animals, Horse No. 2, a mare; Count 3: Cruelty to Animals, Horse No. 3, a deceased stallion; and Count 4: Cruelty to Animals, Horse #4, a deceased mare.
All charges are second-degree misdemeanors and carry a maximum sentence of 90 days in jail and a $750 fine.
Two of the horses were found dead in a barn where Silbaugh kept horses at Harrison Twp. The other two horses (a mare and her two-year-old filly daughter) were found alive in the barn and were removed from the property by the Carroll County Humane Society on February 24.
Carroll County Assistant District Attorney Adam Lumley noted that Silbaugh had a history of such actions, having previously been convicted of cruelty to animals (horses) in Stow City Court and Portage County.
"The owner of the property where the horses were housed previously had concerns that the horses were not being cared for, which is documented," Lumley said. The woman's grandson, who lives in a house near the barn, heard noises in the barn and went to investigate. He found the four horses, two of them dead, all inside the barn.
Lumley said that at one time there were stalls in the barn, but many of the walls were missing – chewed up and gnawed by horses.
"In addition to the malnourished and malnourished horses, the horses' hooves had not been taken care of and there were issues with that as well," Lumley said.
He requested $50,000 cash bail with no 10% feature because Silbaugh could hitch his trailer to a truck and leave the county to avoid prosecution.
Willen accepted the $50,000 bond, but allowed 10% functionality with a GPS tracking bracelet.
A preliminary hearing is scheduled for March 23 at 10:30 a.m.
Humane Society investigator Merle Long said the investigation into Silbaugh's care of horses began in May 2021 with the lack of care for the horses' feet.
"We had some issues with him or maybe the other two are still alive," Long told The Messenger. "The two horses that are still alive were able to get out into the pasture, but I don't think the other two were ever born."
Silbaugh had previous animal cruelty convictions in Stow City Court and Portage County Common Pleas Court, both of which involved starving horses.
Silbaugh accepted a plea deal in August 2015 in Stow City Court and avoided a jury trial.
Silbaugh and her late husband, Thomas Silbaugh, pleaded guilty to one count of animal cruelty. Three other counts were dismissed. Both were sentenced to 90 days in jail, ordered to pay a $750 fine and pay restitution of $12,296.82 for veterinary bills and treatment of seized horses. Both were placed on probation for a year.
In this case, 14 horses and five rabbits were removed from a residence in Cuyahoga Falls. According to an article in the Record-Courier, the Humane Society of Greater Akron said all of the animals were found without adequate food, water or shelter and some needed immediate medical attention. Three of the horses had to be put down.
Silbaugh was also convicted in 2008 of animal cruelty in Portage County. She pleaded guilty to robbery, forgery and 10 counts of animal cruelty and was sentenced to six months in prison, five years probation and 100 hours of community service. She was also ordered to pay $24,363 in restitution to the Portage County Animal Protection League and relinquished ownership of horses she did not care for. Common Pleas Judge John Enlow barred Silbaugh from owning horses while on probation. She failed to pay restitution and probation fees. Less than two months before his probation ended (March 26, 2008), a motion was filed to revoke Silbaugh's probation. At a hearing, the restitution was reduced to a judgment entry and the outstanding charges were turned over to a collection agency. Silbaugh appealed the case to the Court of Appeals, which upheld the Portage County Court decision, then appealed the case to the Ohio Supreme Court, which declined to hear the case and dismissed the appeal, saying it did not involve any substantial constitutional element. question.
According to the Record-Courier article, 20 malnourished horses were seized by Brimfield Police and Happy Trails Horse Rescue from the facility where they picked up the animals in Brimfield. Four were found dead and two others died by the time Silbaugh was ordered to relinquish custody of all horses.
A Facebook page was created in February 2015 titled "No More Animals for Diane", which chronicles Silbaugh's equestrian activities, including an August 2018 post stating that she was looking for a place in Ravenna or Carroll County to ride. house two horses until his barn is built. The message said Silbaugh was telling barn owners that she had a stud and a filly and that neither could be thrown out to pasture because they were "defying" the fence.
Carroll County Humane Society President Shirl Berry said the society pays for food and veterinary care for seized horses while in foster care. Once rehabilitated, they may be eligible for adoption, with the foster care provider having the first option.
Anyone wishing to donate to help pay for horse care should send a check to Carroll County Humane Society, Box 61, Carrollton, OH 44615.