woman from Nelsonville asks Vice-President of Council to step down, citing allegations of harassment and abuse of power | New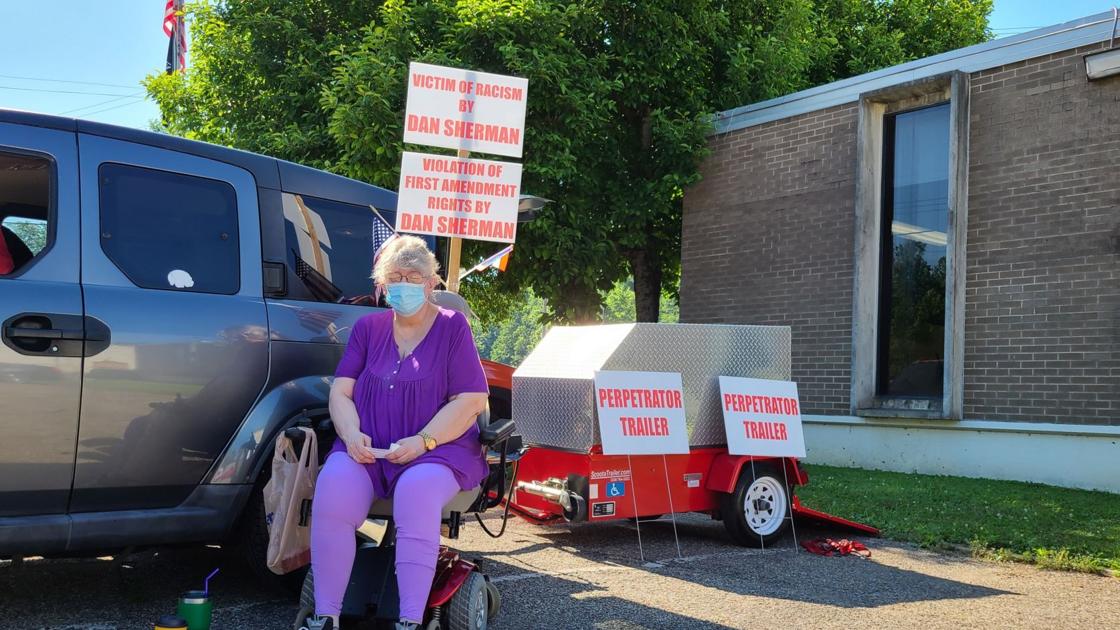 A Nelsonville woman on Monday called on the vice-president of Nelsonville city council to step down after announcing she believed she had been the subject of a long campaign of harassment by her.
Missy Perez-Clement, 60, says she feels harassed by Nelsonville City Council Vice President Dan Sherman and called on Sherman to step down during protests outside town hall, publications sharing what she says she is proof on Facebook and, Monday, through a citizen's comment to read at Nelsonville Council asking her to resign.
Sherman objected to reading the letter during the meeting, saying it was "digging up trash".
Perez-Clement compounded his allegations of personal harassment by also claiming that Sherman had abused his position on the board for years.
Perez-Clement told the Athens messenger that she was not a conspiratorial person or someone who had frequent conflicts with neighbors, but that she truly felt she was being harassed resulting from a dispute in 2018 over a scooter trailer.
"I am a very private person, especially when I take the form of my medical problems … these rights were taken away from me, a projector was placed by someone who not only did not have the right to do so. , but did it under the premise of a ploy for power and control, "Perez-Clements wrote in a Facebook post.
She also says she has evidence that Sherman regularly breaks city rules, including not applying for a permit, and said he has yet to reimburse the city for a damaged "ga-ga" pit. (ga-ga is a ball game). She also referred to the recent chili cooking in the plaza; Sherman did not apply for a permit for this event, as The Messenger previously reported.
The letter was originally intended to be read at an earlier meeting which was unexpectedly canceled. At that time, Sherman told the Athens messenger that he had no intention of resigning.
On Thursday, after declining several phone calls, Sherman telephoned the messenger from Athens to say in a loud voice that individuals in Nelsonville, whom he named, were "stirring the pot" and that anything posted on them. Perez-Clements' claims would be a "stupid story."
Sherman then promised that he would "take care" of anything that got published, then hung up to immediately text the reporter from The Messenger with a message never to contact him again.
Perez-Clement said the main reason she was asking for his resignation was what she said was an abuse of power.
More recently, she noted, Sherman failed to secure a permit for a chili bake that took place in the plaza in April. Permits are required for all events taking place in the square.
At the time, Sherman rejected the need for a permit, saying it was a charity event for the city. The city code officer told The Messenger that a permit is required anyway. For the next event he organized, a gathering of campers in the square, he applied for and got a permit.
Perez-Clement also pointed to the 2019 incident in which Sherman and former city manager Chuck Barga were ordered to rebuild and reimburse the city of Nelsonville for a destroyed pit, which the prosecutor said "has been removed. by order of Chairman of the Board Dan Sherman. "
Blackburn's letter from 2019 states that Sherman had agreed to pay the cost of the lumber used for the repairs. However, it is not clear whether Sherman actually compensated the city for this full sum. According to public records, the city received a receipt of $ 875 for lumber used for repairs. Sherman has paid $ 125 to date, according to records.
Sherman, while accusing the Messenger of Athens of calling him a liar, said he fully compensated the city for the damage. He said he agreed to pay for the damaged poles on the pit, although Blackburn's statement indicates Sherman agreed to pay for the lumber needed for the repairs.
He added, "Barga took it upon himself" to buy the $ 875 worth of lumber.
Barga did not want to speak on the subject.
City Manager Scott Frank said he did not properly investigate the issue because it happened while he was not in the position.
City auditor Taylor Sappington said he was not sure the full amount was paid due to different definitions of damage, but also said the amount spent on timber for the project was not equal to this for which the city had been compensated.
Blackburn said it is now the city's responsibility to ensure the recovery of the money owed to it if it is to believe that it has not been fully compensated.
Perez-Clement has alleged numerous other abuses of power that The Messenger was unable to verify at time of publication. His full list of charges and the results of public documents requests are available in lengthy personal Facebook posts shared over the past week.
Sherman admitted in a previous interview that what he calls the "old stuff" that "pisses them off" stems from a long battle for a license for Perez-Clement's scooter trailer.
He said he never harassed Perez-Clément.
"It's unfortunate that they have to keep digging into the past," Sherman said. "I don't know what she's talking about, mate."
Perez-Clement said she bought a trailer to haul a scooter in 2014, and has parked the minivan with the small trailer on the street ever since, without any complaints from anyone.
During a meeting in November 2018, in an audio-only recording on the Sunshine on Nelsonville Facebook page, Sherman can be heard speaking out against former Council member Dottie Fromal, and began circulating an email. which she sent – after raising concerns about a Jay Edwards Campaign Poster on what was in part city property.
Her husband Gregg Clement can then be heard telling Sherman that there is no way to treat a coworker and that he should stop.
"Damn, I'm going to keep going, Gregg," Sherman said.
Perez-Clement said she believed this was where the harassment over the scooter trailer started.
She said immediately after the meeting someone started complaining about the scooter trailer and her security cameras spotted Sherman slowing down in front of their house on a regular basis (she posted a video on Facebook). Perez-Clement mentioned that Sherman lives about a block from his residence.
She added that she had requested public information on the complaints and discovered that Sherman had filed five complaints in the three weeks since the incident at the November 2018 meeting.
"The public registration request simply confirmed what we had already suspected," Perez-Clement wrote on Facebook.
Recorded meeting feeds since November 2018 examined by The Athens Messenger show Sherman would often interrupt Perez-Clement and her husband or become combative when submitting comments or raising questions during meetings.
Perez-Clement said that since then Sherman and Barga have worked together to find an offense for which she and her husband would be charged. Barga declined to comment on the story.
She said, and recorded videos of meetings on Facebook confirm this, that the city government told her that she needed a revocable trailer license to park her trailer on the street.
After a lengthy public discussion on whether Perez-Clement needed a revocable license for his trailer (documented on previous meeting flows), the city held a tense meeting on the topic in September 2019. Over of the meeting, Perez-Clement said Sherman harassed her in the hallway before the meeting and called her a derogatory name. Sherman did not deny this claim, stating instead, "I don't want to discuss this just yet."
The meeting resulted in Perez-Clement canceling his revocable license request, saying it "was not going to be interpreted by Dan Sherman or Chuck Barga".
After that, she said, she never heard another complaint from Sherman, and what she described as harassment stopped.
Another Nelsonville resident, Lori Crook, said she also saw how much she thought Sherman had harassed and intimidated other townspeople, and said she was proud of Perez-Clement for having spoke.
Crook said she believed others in town were regularly intimidated and harassed by Sherman, but feared the same retribution she said Sherman inflicted on Perez-Clement, so they don't speak.
"It's so inspiring to see victims of Dan Sherman's constant bullying and harassment take a public stand," said Crook. "He picked the wrong person and everyone I know is 100% behind him."
"He is behaving abusively and illegally and he must resign now. "